Grid Tied Inverter – Three Phase
Grid Tied Inverter
Three Phase: GT3-5K/6K/10K/12K/15K/20K/25K D1
The LIVOLTEK GT3-5/10/12/15/20/25K-D1 PV inverter is developed for residential or commercial customers who need a three-phase rooftop model. The Shade Fix integrated shading management system ensures that the inverter maximizes energy production even when the PV panels are lightly shaded. The machine has a built-in optional AFCI module to prevent electrical fires caused by abnormal arc faults in the electrical wiring, with a high safety factor. With 160V ultra-low start-up voltage, ultra-long working time, it's surely an ideal choice for large commercial and industrial power plants.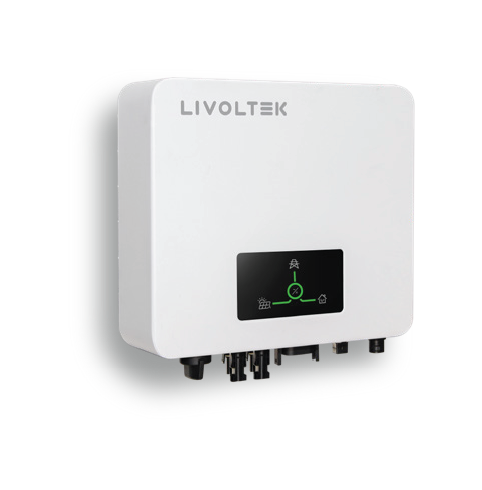 How Livoltek Three Phase Grid Tied Inverter Work?
Product Core Data Comparison
Model

GT3- 5KD1

GT3- 6KD1

GT3- 10KD1

GT3- 12KD1

GT3- 15KD1

GT3- 20KD1

GT3- 25KD1

Start-up DC Input Voltage

Max. Short Circuit Current

No. of Strings per MPP Tackers

Rated AC Grid Output Current

3/N/PE, 220V/380V, 230V/400V

45Hz-55Hz/55Hz-65Hz (Adjustable)

> 0.99 Rated Power (Adjustable 0.8 Leading - 0.8Lagging)

Output THDi (@Nominal Output)

AC Short Circuit Protection

Anti-islanding Protection

Residual Current Monitoring Unit

Integrated AFCI (Arc-Fault Circuit Protection)

Operating Temperature Range

–30℃~ 60℃ (Derating at 45°C)

–30℃~ 60℃ (Derating at 45°C)

RS485(Meter), 4G/Wi-Fi+Bluetooth, DRM

Certifications and Standards

IEC61727, IEC62116, CQC ABNT NBR 16149, ABNT NBR 16150

IEC62109-1/2, EN61000-6-1/2/3/4

5 Years/10 Years (Optional)
Dear users, if you encounter any problems during the use or installation of Livoltek products, you are welcome to fill in the contact form below.
Our after-sales engineers will help you to solve the problem the first time.
Dear Livoltek users or installers, here you will find our most frequently asked questions and their answers, which we have grouped together in order to help you solve your problems quickly.
My router is 5GHz. Can I use it to connect the inverter to my Wi-Fi?
No, currently Wi-Fi dongle can only connect 2.4GHz networks.
How can I limit the power feed to the grid?
A smart meter is required and please set the value of limit in the app Settings – Feed in
Limitation.
My inverter had an alarm saying "PV over current", what should I do?
Solar panel power cannot be more than 150% of inverter rated power. For example, a 6KW on
grid inverter can connect 9KW solar panels at maximum. Therefore, please check whether solar
panels are over installed.
Or please install 9KW solar panels on two MPPTs instead of one MPPT
Why is the LED not lit up?
The LED is lit up when DC voltage reaches start-up DC input voltage. The start up voltage
varies depending on the power of the inverter.