Off-Grid Inverter
GF1-3K24S1/GF1-5K48S1
The LIVOLTEK Off-Grid Inverter is an important part of the off-grid solar power supply system. Built-in MPPT controller, combining functions of a solar charger and battery charger, this smart solar inverter can be connected to the public electricity grid and manages a photovoltaic system and a battery bank to offer uninterruptible power support for you. It can also run directly, It can also running without batteries, energy share from utility and solar to loads alternatively. Once this inverter is installed, you can use the free app to monitor your solar system both locally (with the integrated Bluetooth) or remotely (via an optional Wi-Fi &LAN 2in 1 module) at any time.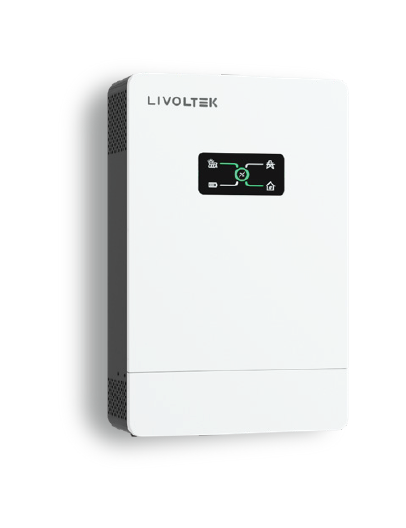 With its intelligent management, this self-consumption inverter can achieve a fast switching time in response to the AC input loss and power your critical loads which require 10ms transfer time to ensure an unobstructed power supply 24*7. The switch time in this system is 10ms from one mode to another. You will not even realize when a switch happens. This inverter is ideal for sensitive equipment like servers, ATMs, and medical machines.
Customizable Your Needs with Friendly Design
Compatible with different power sources, a wide range of applications are possible with LIVOLTEK off-grid hybrid inverter. The intelligent and simplified working mode offers great flexibility for you to choose how to power your loads. If you are afraid of not having enough power, the inverter can transfer electricity straight to your house and automatically switching the source priority according to your set. It can also ensure excess solar power is not injected into the grid. The optional split LCD screen and comprehensive display allow you to customize voltage range and helps in ease of viewing particularly if the inverter is installed in a corner of the house.
Manage Your Energy with Simple Finger Swipes
Built-in Bluetooth and optional Wi-Fi module offering full system visibility and remote troubleshooting, this off-grid inverter allows you to track the performance locally and remotely via tablet or smartphone apps. Also, by connecting your PC to the Ethernet port, you have direct access to your inverter's graphs and data. A single USB port can update your software easily. Thanks to the intelligent monitoring system, you are warned in case a problem occurs which makes supervision and maintenance easier.
Model

GF1-3K24S1

Recommended Max. PV Power

Max. Open Circuit Voltage

Max. Short Circuit Current

No. of MPPTs/Strings per MPPT

Sinusoidal (Utility or Generator)

170V~280V(Computers) 90V~280V(Appliances)

10sec (110% ~ 150%), 2sec (150% ~ 200%)

Charging Strategy for Lead-acid Battery

Charging Strategy for Li-Ion Battery

Max. Solar Charging Current

Operating Temperature Range

5% to 95% (Non-condensing)

Standby Power Consumption

CAN/USB/Dry Contact/Bluetooth/NTC/ RS485/WiFi(Optional)/LCD(Optional)
*Certifications may vary according to different regions.
*All Specifications are subject to change without notice
Dear users, if you encounter any problems during the use or installation of Livoltek products, you are welcome to fill in the contact form below.
Our after-sales engineers will help you to solve the problem the first time.
Dear Livoltek users or installers, here you will find our most frequently asked questions and their answers, which we have grouped together in order to help you solve your problems quickly.
What batteries can be used ?
Livoltek off grid inverter is compatible with Livoltek Li-ion battery, Pylontech 48V with CAN
communication and 48V lead-acid battery.
How can we upgrade firmware for off-grid inverters?
There are four ways to upgrade.
1. Upgrade from the app after connecting the inverter with smart phone bluetooth.
2. Upgrade by U disk.
3. Upgrade from LCD screen.
4. Upgrade from Livoltek platform when the inverter is online.
How many work modes are there for Livoltek off-grid inverters, and which one should I choose?
There are backup mode, economic mode and off-grid mode.
Backup mode is advisable for users who live in an area where power outages happen
frequently.
Economic mode is advisable for users who have solar panels and the electricity is expensive.
Off grid mode is for no grid area users. This mode does not need to be set from the App.
Why is there no power that goes to EPS appliances?
Please turn on the ON/OFF switch at the bottom of the off grid. If it is turned on, please
connect off grid with bluetooth and check what fault is happening or contact Livoltek technical
support.
Do I need to set parameters for batteries?
Lithium batteries do not need to set parameters because the inverter can communicate with
BMS. However, for lead-acid batteries or lithium batteries with no BMS, parameters need to be
set.
There is a beep when the grid is out of power.
The beep sound can be turned off from App at Settings-Basic settings-EPS setup-Beep on EPS.
Can I connect multiple off-grid inverters in parallel?
Currently, Livoltek single phase off grid inverters can be paralleled to a maximum of 3
inverters.
Can the off-grid inverters work under no battery connected?
Yes, Livoltek off-grid inverter can work without battery connected. Please note this does not
work when multiple off grid inverters are paralleled.